July / August 2006
---
Tackling Health Literacy



Photo courtesy of Dr. Wes Young

Patient education plays an increasingly significant role in healthcare these days. No longer are patients viewed simply as "consumers" of healthcare services. Instead, they are recognized as partners. As beneficial as this new reality may be, however, it also poses challenges. Every patient is an individual and, therefore, every healthcare organization's patient population represents widely varying levels of education and literacy. One patient's ability to comprehend complex clinical information may be vastly different than another's.
This is a scenario that the Waianae Coast Comprehensive Center in Oahu, Hawaii, experiences on a daily basis. Waianae is a community-operated, not-for-profit medical facility serving nearly 50,000 patients — about 70% of whom are at or below the poverty level. While some patients are well-educated healthcare consumers, many others struggle with literacy.


Photo courtesy of Dr. Wes Young

As providers at Waianae became increasingly aware of the patient literacy challenge, they identified the shortcomings of traditional patient education materials — such as hasty sketches drawn on the paper sheet of the examination table, laminated illustrations provided by pharmaceutical companies, or one-size-fits-all handouts that did not consider patients' varying comprehension levels. The result was that providers couldn't be sure their patients understood dosing levels of prescribed medications; immunization requirements and schedules; disease symptoms or warning signs; treatment or therapy instructions; or a frightening amount of additional vital information.

Patient Education Technology
To ensure that providers could deliver the most effective care possible, Waianae implemented an electronic medical record (EMR) system in 2002 that includes a comprehensive patient education module. This module gives the clinical staff access to a wide range of tools that can be used to make sure patients understand their condition or health status, including a library of materials that range from simple illustrations and basic instructions for illiterate patients to complete overviews of complex topics for literate patients. Through the use of these tools, providers can:
identify the appropriate level of information for each individual patient, from simple to highly sophisticated;


select materials to match the patient's personal circumstances, such as how their primary diagnosis may be impacted by co-morbidities or risk factors; and


customize resources that take into account regional or environmental factors such as diet or work environment.
Providers and nurses are also encouraged to pay close attention to how patients respond to verbal instructions and tailor patient education accordingly. When they feel as if the patient's eyes are "glazing over," they can choose from a menu of options to customize a packet of materials, thus increasing the likelihood that the patient will understand the information and follow instructions.
Here are some real-life examples of how the EMR patient education module is used at Waianae:
One patient was seen for back pain, and the provider was unsure how well he understood his condition or the exercises that would relieve the pain and strengthen muscles. The provider selected a simple anatomical drawing of the back that he used while discussing the condition, and printed out additional sheets that illustrated various exercises the patient could do to correct the problem. In addition, the provider gave the patient a detailed, written handout to use for reference or share with family members who may have a higher reading level.


It is common for Waianae providers to see sexually active teenage girls who have only a vague concept of how their bodies and the reproductive process work. Providers are able to pull up drawings of the male and female systems and demonstrate how pregnancy occurs or diseases are transmitted. Once the patient understands these basic concepts, the provider is able to discuss prevention and provide the appropriate level of education about birth control.
In other situations, the module may not address literacy issues but simply make complex or alarming topics more understandable. For instance, many children experience a period of rapid growth and develop Osgood-Schlatter Disease, a common condition that sounds far worse than it is. As the child grows, a painful lump develops at the bottom of the kneecap. Parents are often very concerned, but a simple drawing and handout provides greater reassurance than a simple discussion might.
Similarly, common local misconceptions about specific diseases can be corrected with appropriate education materials. One Waianae provider relates the story of a family whose grandparents were convinced that their grandchild's frequent ear infections were due to the amount of time this Hawaiian family spent in water sports. The provider was able to illustrate how infections develop within the structure of the ear and how, in this child's case, the problem lay in clogged tubes and resulting infection. These handouts were shared with the grandparents, whose fears were allayed.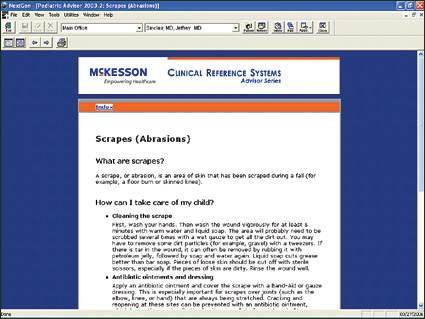 Figure 1. Care instructions — Patient education promotes successful outcomes and improves compliance by ensuring that patients comprehend and remember care instructions.
Improved Quality of Care
While each provider at Waianae uses the patient education model differently, practice leadership has seen a positive impact in quality of care. Better information is being shared with patients, who are responding through increased compliance with care plans.
The benefits of this trend will only escalate in the near future as interest in pay-for-performance programs grows and reimbursement levels become based on demonstrable improvements in clinical pathways and outcomes measures. Waianae, in particular, will be affected because of its reliance on public healthcare assistance programs. Nearly 50% of the practice's patients are covered by the Quest Program, which is a managed care capitation program that provides coverage to Hawaii's Medicaid patients. Another 7% are Medicare beneficiaries.
With its EMR system, Waianae is in an enviable position: Not only is it delivering superior care to patients who are more compliant with individualized care plans, it is able to track its efforts and provide measurable results that in all likelihood will improve reimbursement.
---
Audrey Taleff is a primary care provider at Waianae Coast Comprehensive Health Center in Oahu, Hawaii. She treats all age groups, with a large number of children and adolescents in her practice. She is a graduate of Pennsylvania State University with a master's of science in nursing, and a specialty as a family nurse practitioner. Taleff may be contacted at ataleff@wcchc.com.
Alean Cook-Palmer is a Board-certified family practitioner at Waianae Coast Comprehensive Health Center with specialty in HIV primary care.
Vija Sehgal is the associate medical director and a pediatrician at the Waianae Coast Comprehensive Health Center. She is also the health center's provider advocate for the electronic medical record program.