Let PSQH maximize your organization's exposure — through our exclusive sponsorship program!
Patient Safety and Quality Healthcare
Cover Sponsorship Opportunities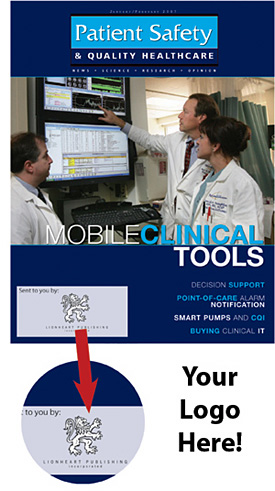 Let PSQH maximize your company's exposure to your targeted audience through our exclusive sponsorship program.

Reach Prospects
Increase Brand Recognition

Reward Buyers
Build Customer Loyalty



Send issues of PSQH to your customers and prospects with your name and logo on the front cover of each issue!

Maximize your advertising message, build relationships and keep your name in front of your prospects with the PSQH Sponsorship Program.

Benefits of Sponsoring
Provide a valuable reference tool
Your logo on the front of each issue
A reciprocal link on the PSQH website to your website
Take advantage of this fantastic sponsorship opportunity — call today for more information.
For complete sponsorship information contact:
Kelly Millwood
This email address is being protected from spambots. You need JavaScript enabled to view it.
888-303-5639, ext. 215