January / February 2012


Perioperative Technology Improves SCIP Measurements in a Community Hospital

One of the most highly regarded quality initiatives in the hospital operating room (OR) sphere is the Surgical Care Improvement Project (SCIP), an ongoing program whose work was initiated in 2003 by the Centers for Medicare and Medicaid Services (CMS) and Centers for Disease Control and Prevention (CDC) and is coordinated through a steering committee of 10 national organizations committed to improving surgical care quality and patient safety.

The Surgical Care Improvement Project (SCIP) was created in 2003 by the Centers for Medicare and Medicaid Services (CMS) and the Centers for Disease Control and Prevention (CDC) in order to reduce the incidence of surgical complications in patients nationwide. The SCIP partnership's activity is directed by a steering committee whose organizational members include the American Hospital Association, American College of Surgeons, Institute for Healthcare Improvement, The Joint Commission, and several federal agencies.


The program encompasses a wide variety of process and outcome measures, in a few different broad areas, including infection reduction and venous thromboembolytic (VTE) prophylaxis. In the infection control area, for example, measures also include "prophylactic antibiotic received within one hour prior to surgical incision," and "prophylactic antibiotic selection for surgical patients." In the VTE area, measures include "surgery patients with recommended VTE prophylaxis ordered," and "Surgery patients who received appropriate VTE prophylaxis within 24 hours prior to surgery to 24 hours after surgery."


The kind of work that the ongoing SCIP Project endorses is supported by numerous studies and other research. For example, the national network of Medicare Quality Improvement Organizations (QIOs), working under contract to CMS, recently conducted a surgical infection prevention collaborative that effectively reduced surgical site infections by 27% at 56 centers around the country.
As hospital organizations nationwide move forward to improve patient safety and care quality through the application of SCIP and other outcome measures, healthcare clinicians and executives will continue to look to their pioneering organizational peers for success stories illustrating documented advances and best practices in clinical performance.

One organization whose clinical leaders have a compelling story to tell is Medcenter One, a non-profit, integrated health system consisting of a 232-bed community hospital, a multi-specialty clinic, a college of nursing, six primary care clinics, three kidney dialysis centers, and four long-term care facilities, serving central and western North Dakota. Based in Bismarck, the state's capital, Medcenter One's flagship hospital operates 11 OR suites and 4 endoscopy rooms, staffed by 40 surgeons and supported by over 100 OR staff. In 2010 the hospital performed 8,600 surgeries and 6,000 endoscopy procedures.

More than 3 years ago, clinical leaders at Medcenter One Hospital determined that they wanted to improve the hospital's SCIP performance in several areas. Quality and nursing leaders from the hospital met to design a plan for performance improvement, while at the same time directing the implementation of a perioperative information system to help them measure, analyze, and improve outcomes.

Recent results of their compliance with SCIP measurement goals recorded between 1st Q 2009 and 3rd Q 2010 have been positive (see Figure 1) and include the following:

Appropriate pre-surgery hair removal adherence improved to 100%.
Perioperative temperature management improved from 96% to 99%.
VTE (venous thromboembolism) prophylaxis administered within 24 hours prior to surgery to 24 hours following surgery improved from 67% to 96%.
VTE (venous thromboembolism) prophylaxis ordered improved from 67% to 95%.
Beta blocker administration adherence improved from 80% to 93%.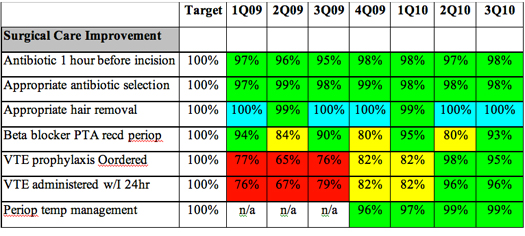 Addressing Issues Systematically
From the beginning, Medcenter One clinician leaders took a clear, systematic approach to OR clinical performance improvement, and their work clearly reaped strong results. How have they achieved what they've done so far? "We actually had two areas of problems," says Wanda Lanz, RN, project coordinator in the Quality Department. "First, we had a gap in documenting performance on the SCIP measures for same-day surgery patients; second, we had gaps in documenting performance on the SCIP measures for patients coming to us via the emergency department, and sometimes from the hospital floors."

The key, Lanz says, was to leverage the appropriate clinical information technology in order to compel consistent documentation of completion of the patient care delivery steps called for in the SCIP measures. In many cases, the correct steps probably were being followed, she reports, but lack of consistent documentation rendered such activity invisible, and therefore, unmeasurable.

As a result, Lanz and her colleagues moved forward to expand the use of the existing perioperative information system from the Atlanta-based Surgical Information Systems (SIS). Prior to 2007, the Medcenter One clinicians had been using SIS's scheduling application but in 2007, they began to implement its clinical documentation module transforming their ability to document adherence to the key SCIP measures.

Lanz teamed up with her colleagues Sandy Fleck, the hospital's project manager for the clinical information system, and Allison Sadowsky, RN, who at that time was a nurse in the Preadmission Department and now works in the Quality Department. Together the group helped to move the OR forward to appropriately leverage the newly implemented clinical information system's functionality.

According to Lanz, "We started on patients with same-day surgery and we recognized that there were fallouts" in terms of documentation gaps around fulfilling the requirements of the SCIP measures. "I was explaining what we needed," she recalls, "and Allison actually came up with the flagging system within the information system. We determined that we could flag patients in preadmissions who were on a beta blocker at home, which then allowed us to flag those patients throughout their care delivery process. " Specifically she says, "when it came to beta blocker administration once a patient reached the hospital, we needed to document the time at which the patient was given the beta blocker in order to make sure it fell within the SCIP-required 24-hour time period prior to surgery. Allison also came up with a flagging system from same-day surgery to make sure that the medication administration time was documented and followed the patients throughout their stay."

Meanwhile, for patients coming from the hospital's medical/surgical floors, Lanz explains, "We added beta blocker administration to the anesthesia checklist and to the blue sheet," on which medication administration was documented (It should be noted that this work was taking place in the context of Medcenter One Hospital's not yet being live with an electronic medical record [EMR] outside of the OR. The hospital plans to go live with an EMR early in 2012). Meanwhile, with regard to the proper documentation of pre-surgical hair removal, the issues the team faced were slightly different, and were thus approached a bit differently. In this area, the national standard of care has in recent years shifted from the shaving of body hair to the clipping of body hair prior to surgery to reduce infections. "We've actually been 100% compliant for at least the past couple of years with the new standard of care in clipping patients' body hair," Lanz notes, "but our documentation hadn't kept up with that reality." As a result Sandy Fleck reports, "We took away the option to document hair removal through any method other than clipping, though nursing staff could type in additional information as needed. That took care of the incorrect documentation that had taken place."

VTE Prophylaxis Complexities
Another area of process complexity that the Medcenter One clinical leaders attacked was around the documentation of VTE prophylaxis treatments to prevent potentially life-threatening blood clots in surgical patients. Among the treatment methods used to achieve VTE prophylaxis are medication and mechanical prophylaxis (which can include intermittent pneumatic compression and the use of sequential compression devices or compression stockings).

As Fleck notes, "We had been missing the appropriate documentation for VTE prophylaxis, both on the medication side and on the mechanical side," for prophylaxis that was being performed from 24 hours prior, to 24 hours following surgery. "In many cases," she says, "patients were getting the ted-hose and pneumo-boots, but that wasn't being documented. In some cases, they were getting medication, and it wasn't being properly documented. The first part of the SCIP measure asks whether an order for the right kind of medication or mechanical device was being entered; the second part requires documentation that prophylaxis was performed within the right time period. This documentation was not always performed consistently."

The solution? "We implemented the prompts with appropriate Wizards and scripts within the perioperative IT solution," noted Fleck. "In doing so, nurses are given a series of documentation prompts that takes them through several questions: Did you have an order for VTE prophylaxis? If so, what kind of prophylaxis was given to the patient? And when was the prophylaxis administered? We made it very simple in order to make it user-friendly for the nurses." As a result, Fleck reports, "We went from somewhere around 65 to 67% compliance, to 98% compliance." As had been the case with beta-blocker administration and with pre-surgical body-hair clipping, actual performance had undoubtedly been higher than was being reflected in the documentation. The fact of systematizing documentation processes through the appropriate leveraging of clinical information technology not only worked to satisfy the requirements for documentation under SCIP, but also ensured consistency of the documentation going forward.

The clinical process improvement team at Medcenter One Hospital continues to address new issues as they emerge. For example, a recent addition to the SCIP measures involves perioperative temperature management, ensuring that a patient's body temperature is at the correct level going through each stage of perioperative care. With regard to that measure, Lanz says, "We are finding that our compliance within the perioperative services area is excellent. But for patients who bypass our PACU and go directly to the ICU, the ICU does not have an electronic record at this point, so we're not able to put in our electronic prompts for documentation of that measure; if they did, we could put those prompts in there as well."

More broadly, Medcenter One leaders agree that automation has been an absolutely critical facilitator in the success to date of their performance improvement work. "The system has been tremendous from my standpoint, because we've been getting the appropriate documentation as needed," says Lanz. "The nurses are very busy, and occasionally, they just forget. But with the electronic prompts, we eliminate nearly all documentation gaps based on human factors."

"Having this information system has helped us standardize our nursing practice across the board," Fleck adds. "Some nurses have said it takes them longer to document electronically than on paper but some are reporting that it actually takes them less time. In any case," she says, "their charting is now complete, and they're no longer allowed to skip areas or leave them blank."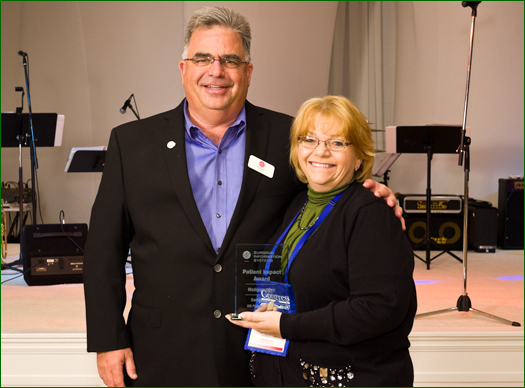 Unexpected Financial Benefits
In addition to gains in clinical documentation, Fleck says they are seeing many fewer missed charges and almost no over-charges. "In areas like implant billing, automation has dramatically improved charge capture," says Fleck. Indeed, she notes that the hospital was experiencing an estimated $40,000 to $50,000 in missed charges in the OR every month, whereas automation has led to a dramatic decrease, to a level of $12,000 in missed charges every 3 months.

All these metrics—clinical and financial—are reinforcing the feeling of success around this initiative. "By showing people the numbers," Lanz says, "we get them engaged in the process, so that we can move forward to where we should go in terms of performance." What's more, Lanz, Fleck, and Sadowsky all agree in the importance of senior management support, which they say they have had in abundance.

The Importance of Culture
They also agree that senior-level support both reflects the organization's culture and reinforces it. To begin with, Sadowsky emphasizes, "We have really been empowered by upper management to make changes." So there has been that bedrock support. In addition, very importantly, Fleck notes, "We have a lot of champions around here. For example, my vice president of surgical services has been very proactive" in supporting progress in the SCIP measures improvement process.

At a minimum, Fleck says, the kind of culture required to support this very rigorous style of work inevitably will be one that supports open-ended investigation and non-defensive collaborative improvement—in other words, a culture of transparency. As a result, she says, sharing results comes naturally. "This comes out of the fact that we know we've made mistakes in the past, and we want to show the world how much we've improved. We are all committed to continuous improvement."

Lessons Learned

| | |
| --- | --- |
| | Medcenter One uses Surgical Information Systems (SIS) perioperative software solution. Developed specifically for the complex surgical environment, all SIS modules are architected on a single database and integrate easily with other hospital systems. For more information visit www.sisfirst.com. |
Given their willingness to take risks and work hard to advance in quality and effectiveness, how can other organizations learn from the innovations being carried out at Medcenter One? "The first lesson learned, really, is to think outside the box," says Fleck. "Because anytime you implement an electronic system, it will come as a 'boxed' system, and you'll have to make it fit your needs. We've configured a lot. Second, you have to engage everyone and get them involved in the planning and implementation. Ask them how you can help them improve their workflow. So we tested, evaluated, tested, rebuilt, and re-tested." In other words, as she and her colleagues have learned, success relies on continually improving both clinical and financial performance, using information technology as a key tool.

Future directions
Medcenter One anticipates a number of new perioperative automation initiatives in the near future. One will be implementation of a tissue-tracking system. Also under consideration is an anesthesia information system. In addition, the organization is moving forward with an EMR, which they expect will further support the quality improvement and effectiveness work they've already begun in the OR with their perioperative EMR.

There are no shortcuts, but as the Medcenter One clinical leaders have learned, the rewards of persevering in such performance improvement initiatives are many and broad, with payoffs in enhanced regulatory compliance, improved clinical efficiencies, and improved financial performance.